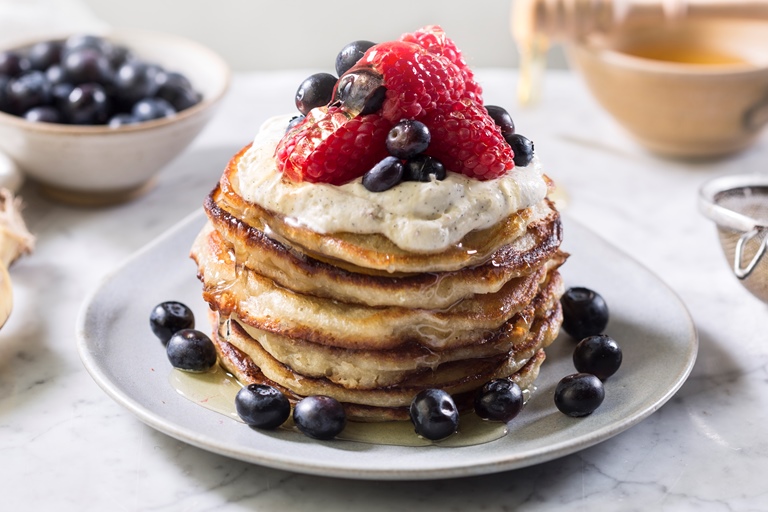 Today we will have a wonderful day with our family having banana pancake during quarantine.Its just not a delightful snack but also a morning healthy diet plan food.Banana pancakes are made for those who are health conscious and loves to eat food but that too healthy.Banana,a fruit found in South India and even in other countries have a valuable benefit in it.Its the banana season now.Lets make delicious banana delights for those summer days and cravings must go and say us good bye!!
INGREDIENTS
1.PAN CAKE MIX
2.MILK
3.SUGAR/SYRUP
4.BANANA SLICED
5.OLIVE OIL
6.BAKING POWDER
PROCESS
1.In a mixer grinder,add banana and other all ingredients as per requirement and grind them till it becomes a swift liquid except milk.
2.Add milk slowly into the mixer and make a batter
3.Next add some oil on a pan or butter on top of sauce pan.Heat under low flame.
4.According to the required amount,add pancake mixture into the sauce pan.
5.Let it cook for sometime and then flip another side with a spoon to cook the other side too.
6.Next put the pan cake on a plate and garnish with chocolate and bananas.You can even add your favourite fruits to it.
Hope you loved the recipe.If you did so,dont wait.Make it and share the recipe with your family.It fuels you till the lunch time.Have a nice evening snack and see you till then.
HAPPY EVENINGS!!